We love seeing what the schools are doing for the #beTHEvoice monthly kindness challenges! See what MacIntyre Park Middle School did for our December activity! (thanks to Michael Curling for sharing w/us):
"Here is the Be THE Voice Christmas Tree that the BTV 6th graders decorated for the historic Patterson House in Thomasville Georgia. This activity was done to meet the Community Activity Requirement for December. Students made paper ornaments out of BTV Stickers, Black and White Oreo Candy Canes, paper ornaments that they colored, BTV Key Chains and traditional red ornaments".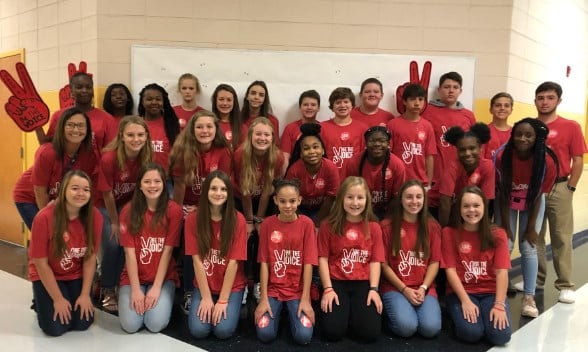 Another great Thomasville, Georgia school Thomas County Middle School sharing a #beTHEvoice update (thanks again to our BTV liaison Michael Curling and Ashley Bulloch for doing such a great job the last 2 years w/the program!)
"We are doing great! My group is the Be THE Voice Group and is made up of 42 members. They go into the 6th grade classrooms every Monday morning to lead the videos. We also meet as a team every Friday afternoon to review the upcoming video and discuss the video and questions. All students are challenged weekly to show kindness. Every Friday the teachers nominate one per company (3 teacher or 4 teacher teams) to be recognized for showing kindness. Each of those students receive a key chain and their names are announced on the Monday morning announcements each week. Then we draw from those names and that one student weekly receive a bracelet as well. We are selling the phone wallets and the other bracelets to raise money for the group to go on a field trip at the end of the year. Once these videos are done we are going to find/create other videos to continue throughout the year. We have other ideas in the works but that is where we are so far. Attached is the only picture I got on our kick off day. We were having so much fun I forgot to get pictures. Some students were missing from the picture as they joined later".